Explore top-notch HIU system products that enhance efficiency and save on energy costs. Equip your HIU systems with leading thermostats like Google NEST 3rd-Gen, HIVE, and TADO for precise control and reduced energy use.
Boost your HIU system's health with ElectroScale2, MagnaClean Micro2, and MagnaClean TwinTech. Protect and clean it with Adey MC1+ Protector and Adey MC5 RapidFlush Cleaner. Also, safeguard your system with Underfloor and Central Heating System Biocide. Opt for the best in HIU system products for standout performance and lasting quality.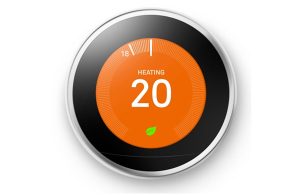 Google NEST 3rd-Gen Room Thermostat
The Nest smart thermostat by Google is the most popular on the UK market. It can replace a standard domestic thermostat and be controlled by an app on a digital advice (smartphone, tablet, laptop or computer). Its smart auto-learning features monitor how you use your heating and sync it with your behaviour. It can also form a personalised schedule for your home depending on ideal room temperatures, the insulation in your home and the current weather.
Home-owner benefits
Proven energy savings
It turns itself down when you're out
Control it from anywhere.
Metal, polished finish
Install it on the wall or use the Nest Stand (sold separately)
High-res colour display
Farsight – shows you the time, temperature or weather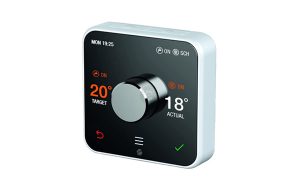 HIVE Smart Thermostat
The Hive Active Heating (smart thermostat) from British Gas is another familiar name in the market. Also able to replace a standard household thermostat, it offers another brilliant way to regulate your home's heating parallel to your daily schedule. Just like Nest, it can be controlled on your digital device via the Hive app.
Home-owner benefits
Control from anywhere using Hive app
The app gives you control of every aspect of your heating. Turn it up, down, on or off, set schedules and get notifications if you accidentally leave it on when you head out
Boost your heating with a tap. If your home isn't as warm as you want, boost your heating or hot water so you get cosy quickly. You don't have to worry about turning it off – it does that automatically
Wireless, but can be mounted on a stand
Location detection will send you a reminder to turn the heating off when you're out
Frost protection activates when the temp drops below 7ºC to prevent pipes from freezing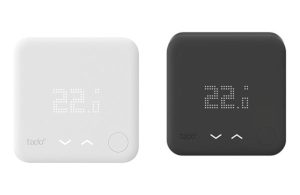 TADO Smart Thermostat
Control tado° from anywhere using the tado° app on your smartphone. Set personal schedules and receive reports and tips on how you can heat more efficiently to save energy. Get all the information regarding your heating and how much energy you are saving at a glance. You can also find tips on how to easily improve your indoor temperature.
Home-owner benefits
Control from anywhere using the tado° app
Uses your location to determine when to turn down your heating while you're away from home, and then turn it back up again as you return
Wireless or wired options
With the tado° app, you can individually control the temperature in each room, so you'll save as much energy as possible. Or you can set a schedule that works for you. (this feature requires tado° controlled wireless radiator valve heads installed in rooms controlled by the app)
ElectroScale2®
ElectroScale2 has been designed to prevent limescale build up in homes and commercial properties. If limescale enters the Heat Interface Unit (HIU) it reduces energy efficiency and eventually causes the HIU to fail. With an electrolytic scale reducer, limescale is reduced, protecting the HIU and enabling it to run more efficiently.
Where mains water hardness levels go beyond 200 ppm, Part L of the Building Regulations states that provision must be made to treat the feed water to water heaters and the hot water circuit of combination boilers to reduce the rate of limescale accumulation and the subsequent decline in energy efficiency.
Home-owner benefits
Maintenance free
Immediate long-term protection for the whole system
No running costs and no mains power supply required
Maintenance free
Part L Building Regulation compliant
Approved by WRAS (Water Regulations Approval Scheme)
10-year warranty
KIWA approved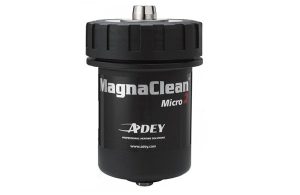 MagnaClean Micro2
Compact in design, the MagnaClean Micro2 is a double-action filter that targets the removal of magnetite in smaller central heating systems. MagnaClean Micro2 delivers exceptional protection against the damaging effects of black iron oxide sludge and non-magnetic debris and is ideal for compact installations where space is limited.
Home-owner benefits
6% annual saving on heating bills
Immediate ongoing system protection
Extended system life
Reduced carbon emissions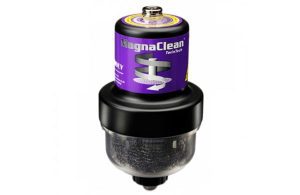 MagnaClean TwinTech
MagnaClean TwinTech is a powerful dual-action filter that captures magnetic and non-magnetic debris as well as biological films. Specifically designed for use with underfloor heating systems. MagnaClean TwinTech delivers protection against the damaging effects of black iron oxide sludge and non-magnetic debris. The dual combination of the high performance magnetic filter and advanced fine wire gauze eliminates magnetic sludge, non-magnetic debris and biological films, making it ideal for use within underfloor systems.
Home-owner benefits
6% annual saving on heating bills
Immediate ongoing protection for HIU
Extends the life of the central heating system
Reduced carbon emissions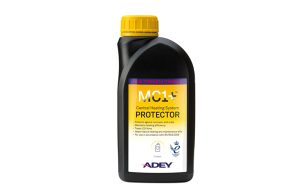 Adey MC1+ Central Heating System Protector
The high-performance MC1+ Protector prevents both system corrosion and limescale deposits. It maintains boiler and system efficiency and prevents the formation of sludge and scale, contributing to a longer system life. Recommended dose rate of MC1+ is 0.4% of system volume – a higher concentration formula than other market products.
Best in class formulation for mild steel protection to prevent magnetite generation
Every bottle of MC1+ is performance tested
Protects against corrosion and scale
Increased strength high-performance inhibitor
Maintains heating efficiency
Helps reduce heating costs and maintenance bills
Suitable for use in both commercial heating and closed cooling systems
Compatible with all metals
Part L Building Regulation compliant
Recommended dose rate of MC1+ is 0.4% of system volume – a higher concentration formula than other market products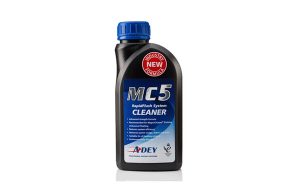 Adey MC5 RapidFlush System Cleaner
The MC5 RapidFlush System Cleaner is an advanced high-strength cleaner developed specifically to work with Adey's MagnaCleanse system and remove central heating system sludge, debris and scale. MC5 starts to work as quickly as one hour after application. For maximum flexibility, it can be left in the system for up to seven days.
Home-owner benefits
Advanced strength formula
Recommended for use with MagnaCleanse and for other mechanically assisted cleaning processes
Restores system efficiency
Removes system sludge, debris and scale
Suitable for all heating systems
Part L Building Regulation compliant and compatible with BS7593
The MC5 bottle can be dosed into the system through the MagnaClean filter
Treats 100 litres which is up to 10 standard radiators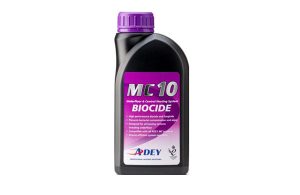 Underfloor and Central Heating System Biocide
MC10+ is a concentrated, dual biocide formulated to prevent the formation and growth of bacterial contamination, algae and micro-organisms in underfloor and central heating systems.
Home-owner benefits
High performance dual biocide with two separate active ingredients making it more effective than a single biocide
Prevents bacterial contamination and algae
Designed for use with underfloor heating
Compatible with all Adey MC range products
Ensures efficient system operation
The MC10+ bottle can be dosed into the system through the MagnaClean filter
MC10+ Rapide can be injected into the system via the radiator, air vent or boiler filling loop and can be completed in as little as 20 seconds
Treats 125 litres which is up to 15 standard radiators or 100 m2
Punctual, knowledgeable at a fair price. Recommend!
Extremely good and thorough HIU service. Our technician Justin was very helpful in identifying a radiator issue and give us solutions to fix it. He also explain all the aspects of maintaining HIU functioning in our home. Best service we ever experienced!
I really appreciated Justin's thorough work, explanation and professionalism. We have had repeated challenges with the HIU in our property, and it has been hard to find a professional we can trust. Following the visit and repair, I now understand the problem in more detail, why and how it happens, and who to call if it happens again. Justin arrived when he said he would, fixed the problem on site and charged a very reasonable price for his work. I highly recommend.
Susan "Suzee" Smith
2023-03-28
We can really recommend Add Detail. The guys are knowledgeable, professional, friendly and do a very thorough job. An extremely efficient service. Thankyou.
Very professional, easy to book and on time! Just sent an email and the next day I had someone to check the boiler. Paying is also easy, as you can choose credit card and also Google Pay accepted.
I contacted Add detail for a leaking HIU, I used the online booking service allowing you you to book time, date & send photos, the request was followed up the same day with an email allowing to add more details & confirmation of booking. The engineer arrived exactly at the time stated, they were very polite and professional & explained everything what he was doing. I am very pleased with the service provided & will be recommending them to my neighbours for annual servicing & maintenance.
They were very professional and came out the same day to sort out my heating system. Excellent service.
Daniel Dumbraveanu
2023-03-06
Very professional